Why Grapevine Economic Development is Introducing a Commercial Outreach Manager

In 2022, more entrepreneurs and corporations than ever chose Grapevine, Texas. The City's prime location in the Dallas-Fort Worth Metroplex, coupled with its trademark charm and character, continues to prove fertile ground for an innovative business culture. Grapevine recorded more verified new certificates of occupancy in 2022 than in the first year of pandemic recovery, including ground-up construction of a new corporate headquarters and several exciting new attractions sure to add to the City's substantial tourism appeal. In all, the City saw nearly 1.1 million square feet of new development.

To support Grapevine Economic Development's mission to assist and catalyze new development while assisting our established businesses, we are pleased to announce our new Commercial Outreach Manager, Ana Erwin. We are confident her addition to our team will add a next-level concierge experience to our responsive assistance that provides guidance, helpful resources, meaningful data, and more to start-ups searching for headquarters and businesses looking to expand or relocate.
"I hope to continue to build on the incredible legacy of those before me of bringing top-notch quality businesses to Grapevine that will benefit our local citizens, sales tax revenue, and our visitors," said Erwin.
Erwin hit the ground running in her new role by attending the ICSC (International Council of Shopping Center) Conference soon after starting. The event is a three-day gathering in Las Vegas of dealmakers and industry experts who are driving innovation and evolution in the Marketplaces Industry.
"It was so fun attending ICSC and having people stop by our booth to tell us how much they love visiting Grapevine," said Erwin. "So many of them have stayed at the Gaylord Texan or Great Wolf Lodge. People have core memories of growing up and coming to our Christmas events or meeting up with friends here and visiting our wineries. It filled me with a lot of pride. It was also awesome to see all the opportunities out there, and it gave me lots of great ideas for businesses to pursue."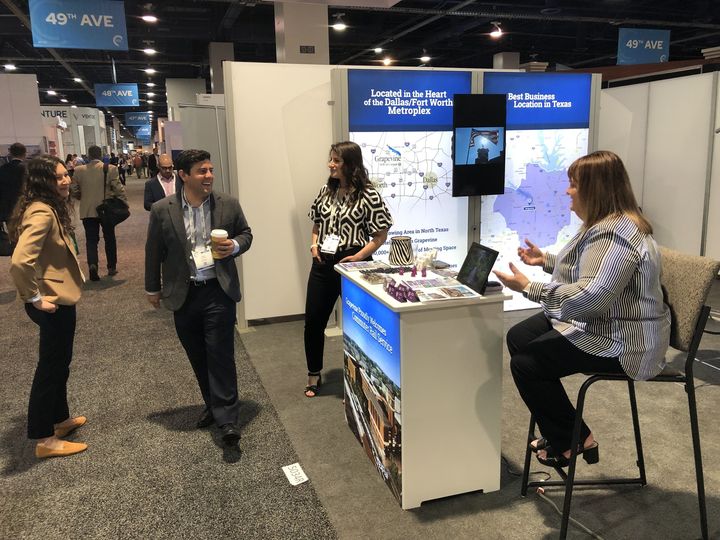 Q & A with Ana Erwin, Grapevine Commercial Outreach Manager
Q: Why did you accept the position of Commercial Outreach Manager? What about the position energizes you?
Erwin: The position brings together several passions of mine. The first one is the City of Grapevine. There is no place like Grapevine. Grapevine is the perfect combination of a hometown feel with friends on every corner, community events, and lifelong traditions while being a tourism hub that keeps things exciting every day. You can be a local or a tourist and have a blast. Everyone comes together here.
I also have a deep-rooted passion for serving local businesses, having been raised by small business owners. The idea of partnering with local businesses and attracting more businesses spoke to me.
Q: How did you get to where you are? What experience are you bringing with you?
Erwin: I ran Grapevine's local newspaper for many years. I oversaw all aspects of the business, from pitching story ideas, editing content, brainstorming infographics, and managing the advertising side. I had to live and breathe Grapevine in order to serve the residents who read the paper. During that time, I became deeply immersed in the community, which has given me a unique understanding and appreciation of Grapevine. Before that, I worked in PR, marketing, and other journalism jobs.
Q: Can you share a professional success story from your career? How will the skills you used benefit your new job?
Erwin: When I was hired as General Manager of the local newspaper, the owner brought me on to turn it around. The paper was struggling financially, and the advertising base was too lean. I was given a timeline to turn it around, or it would have to close. I took the challenge head-on. It was humbling and the hardest thing I have ever done. I had to ask for a lot of grace and work very long hours. Every day, I committed to keep going. I knew the residents of Grapevine deserved to have a local newspaper, and I couldn't stomach the thought of taking that from them. Over the years, I grew the newspaper to be the most profitable it had ever been, hired a rockstar staff, and left it in a great place before moving on. I am so proud that I didn't give up during that period of time.
This experience taught me perseverance and determination. I know in my new role, I will pursue businesses to come to Grapevine, which I will have to court for some time. I know most great things don't happen overnight, and you must keep trying and following up. Most salespeople fail because they don't follow up or give up too quickly.
Q: Why is Grapevine good for business? How do you hope to add to this climate?
Erwin: Grapevine is great for business! It is at the heart of the DFW Metroplex, and people visit from all over. There are attractions that draw people from all the cities around us and beyond. With the airport here, you see people with their luggage strolling down Main Street enjoying their layover in our city. It's amazing to have such a variety of businesses, from Legoland and SeaLife to the awesome local pizza place and everything in between! There is something for everyone.
The city council has been meticulous about the quality of businesses that come to our City, and you can see how that has paid off.
Q: What is great about living in Grapevine?
Erwin: Grapevine is great for all seasons of life. Right now, I am in a season of having a young child. Our ideal day is going to Grapevine Mills and visiting Peppa Pig World of Play, followed by lunch at the Rainforest Café and dessert at Ben's Cookies. You'll also find us at Grapevine Main on a hot summer day running through the fountains with friends. When I am out with my husband or girlfriends, there is a 99 percent chance you will find me either at Harvest Hall — where you can eat something different every day — or at Landon Winery, sharing a bottle of rosé. I also love to host and have friends from other cities come visit all the time. I always take people to the Texas General Store and all the other stores down Main Street.
Grapevine has been incredibly generous to me over the years. I have made life-long friends, and this community is unlike any other. The people here serve together and work together to keep our great city what it is. When you go to the festivals, you would never believe the hundreds, maybe even thousands, of local volunteers making the festivals happen. We all take so much pride and work together to make it the special city that it is.
—-------------------------------------------------------------------------------------------------------------------------
Contact Grapevine Economic Development today to see why companies like Kubota, Solo Brands, and others chose to relocate to Grapevine over the last few years.
For more on Grapevine's unique economy and innovative approach to community building, check out the Growing Grapevine podcast or register to receive our monthly e-newsletter. You can also follow us on Facebook, Twitter, LinkedIn, and Instagram.