New in Grapevine : August 2022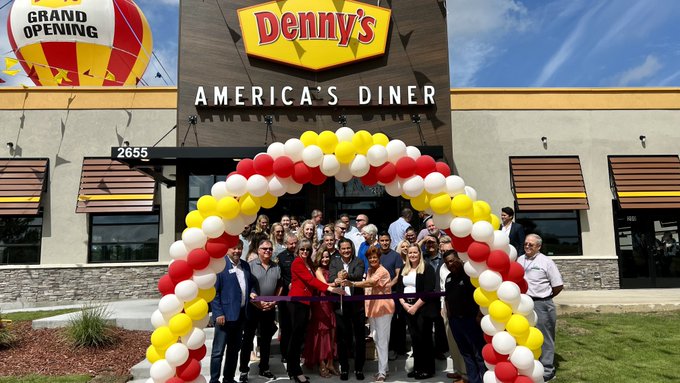 When it comes to diversifying the local market, you won't find a better haul of new businesses than Grapevine netted last month! The full list includes everything from ozone therapy to construction materials, so we've curated a selection of five new businesses that will highlight some of the amazing new ventures that arrived here in Grapevine last month!
If the picture above is any indication, residents and City Council members alike are thrilled to welcome one of America's most famous diners to the ring road around Grapevine Mills! Reliable breakfast options are sure to be a welcome relief to Black Friday shoppers who rose before the sun to shop the deals next door, and a highly recognizable brand like Denny's should be a grand slam in this high-visibility area.
Unless you're a passionate tailor or a large-scale fabricator, JUKI is probably a new name to you. But folks in the industrial and domestic sewing space know that this Japanese manufacturer builds some of the best sewing machines in the world. Now they're opening an office and warehouse space on Nolen Dr, where the company is sure to get the most out of our City's accessibility. That's how you thread the needle on logistics!
Grapevine Mills adds another name-brand outlet to the already impressive collection awaiting shoppers in the City's most expansive shopping center. If you're on the hunt for classic American style at effortless prices, the quickest route will be through Entry 1 on the South side of the building. Hang a right and look for Abercrombie directly across from Banana Republic; if you hit Saks Off Fifth, you've gone too far. Not that any number of stores could ever be Too Many for a Grapevine shopping spree.
Is that back-to-the-office stress starting to wear you down? Has the heat kept you inside so long that you're in desperate need of a tan? Do you deserve a day to Treat Yo Self?* Drop by Body Boutique Spa's new Wall Street location for skin care, acupuncture, facials and more.

*Mimosas and fine leather goods not included.
With Renewable Energy and Natural Gas supplies dominating international headlines, RNG companies like Archaea Energy are primed to make a splash without necessarily having to liquefy anything. Archaea specializes in capturing biogas: waste emissions to create low-carbon energy from decomposing organic material. In layman's terms, that means turning landfills and wastewater into power generators. Who knew you could offset cow gas with micro-bacterial gas?