Infrastructure & Accessibility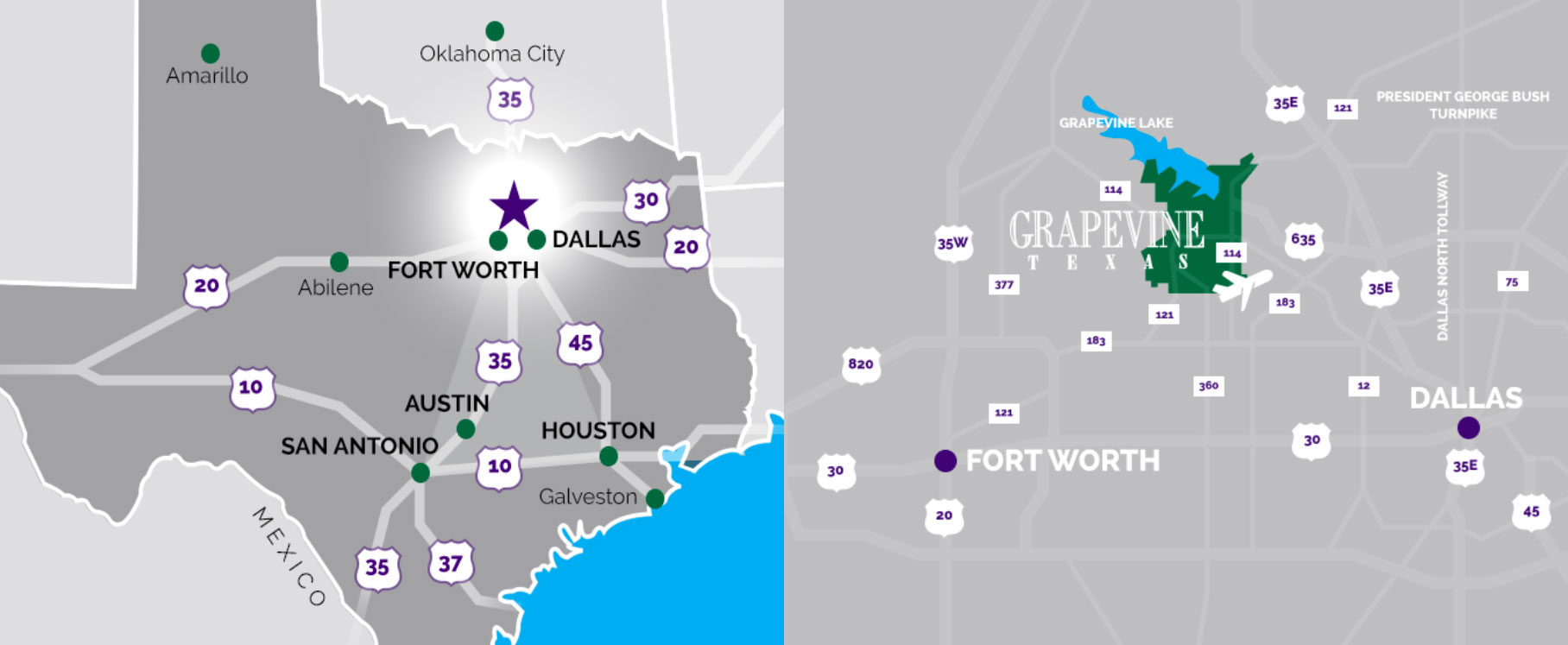 Grapevine, Texas boasts of a robust infrastructure that has benefited from seismic growth within the Dallas-Fort Worth Metroplex and the state of Texas as a whole. New projects like the TEXRail commuter rail line have made it easier for Grapevine businesses to attract workers living within the greater region, and for people to access the DFW International Airport. In addition, Grapevine is strategically connected to the rest of Texas and the country through a large highway system and one of the busiest airports in the country.
Air
Grapevine provides direct access to two major airports. Dallas Love Field International Airport is a quick 20-minute drive from the city center, while DFW International Airport sits partially within city limits. That puts the region's top airport just ten minutes away from most residents and employers, especially now that the TEXRail commuter train runs directly from Main Street to Terminal B inside the DFW International Airport.
Ground
Located in North Texas, Grapevine has access to all the major highways that lead to Dallas, Fort Worth, Houston, Austin, and San Antonio. Dallas and Fort Worth are a short 25-minute drive away, and cities like Oklahoma City, Austin, and Shreveport can be reached in 3 hours. Houston, San Antonio, and Little Rock are all within a 5-hour drive, as well.
Transportation Routes and Traffic Counts:
Highway 114 daily traffic count 110,124
Highway 121 daily traffic count 112,791
Interstate 635 daily traffic count 115,976
Interstate 35 daily traffic count 108,517
Northwest Highway daily traffic count 110,124
President George Bush Turnpike 119,386
Public Transportation
TEXRail Commuter Rail
TEXRail is a new 27-mile commuter rail line that extends from downtown Fort Worth, across northeast Tarrant County, through North Richland Hills and Grapevine, and into DFW International Airport. This line began service in late 2018, and serves more than 8,000 daily riders at nine stations. By 2035, nearly 14,000 riders are projected to utilize the system.
Grapevine Visitors Shuttle
The Grapevine Convention and Visitors Bureau operates a Grapevine Visitors Shuttle, which provides visitors with a link to Grapevine hotels, DFW Airport, the Main Street Historic District, restaurants, and Grapevine Mills Mall. The retro-style shuttles each seat approximately 23 passengers (and an additional six standing) and are handicap equipped to transport up to two wheelchairs.
The Grapevine Visitors Shuttle operates seven days a week. Information and tickets are available at all Grapevine hotels, Grapevine Mills Mall, and the Grapevine Visitor Information Center.
Northeast Transportation Services (NETS)
Northeast Transportation Services (NETS) is a door-to-door transportation service for residents of Bedford, Euless, Grapevine, Haltom City, Hurst, Keller and North Richland Hills who are disabled or 55 years of age or older. This service is operated for the member cities by the North Texas Region chapter of the American Red Cross.