Meow Wolf Hosts First Community Engagement Meeting in Grapevine
When your specialty is "experiential story-driven immersive art," it can be tough to explain who you are and what you do. The challenge intensifies when, as a B Corporation, one of your highest priorities is community engagement and giving back. Sprinkle a brand name like "Meow Wolf" on top, and you've got a recipe for a few clunky conversations. But the team at Meow Wolf, which has now overseen a host of pop-up events and three permanent installation projects, is well-practiced in the art of building relationships. To that end, the local team launched a series of Community Engagement Meetings in Grapevine on July 27, 2022.
In partnership with the City of Grapevine, Meow Wolf representatives spent an hour engaging with local residents and business owners, soliciting feedback and advice while taking time to explain exactly who they are and what they plan to do. Longtime fans of the brand are no doubt already hunting for clues as to the story expansion and thematic elements that will define the newest location in 2023. Unfortunately, the team remains tight-lipped on actual details. But here's what we know after the most recent meeting:
1. It's the First Step into Texas, But It's Decidedly Grapevine
As a company, Meow Wolf works hard to represent and draw from the people and culture of a host community. They'll be collaborating with more than 30 artists (a list of whom should be announced later this summer) here in North Texas, and they've made a concerted effort to find undiscovered talent that reflects the diverse population of the DFW Metroplex. Artists from all over Texas will contribute to the final product. But they remain committed to branding the location as Grapevine-specific, as evidenced by the official logo.
2. The New Location Will Be a Local Business Booster
In Santa Fe, Denver, and Las Vegas, Meow Wolf worked with local vendors whenever possible. Almost everything sold in the Santa Fe cafe is locally sourced, and souvenirs are created in collaboration with artists. That means that most things you buy here in Grapevine will support local artists and business owners. And yes, it also means they're planning on some form of cafe or snack shop. Company representatives were quick to point out that Grapevine Mills already plays host to multiple full-service restaurants, so they don't anticipate a big menu or full meal service. But given that there is no time limit on guests, it makes sense to provide food and drink options of some type or another.
3. The Core Pieces Will Be Similar to Other Locations
Human Resources Coordinator Johan Ehde promises that the Grapevine iteration of Meow Wolf will follow a familiar formula: grounding visitors in something familiar (like a house, a grocery store, or public transportation office) and offering "portals" into the artistic multiverse at the core of Meow Wolf aesthetics and lore. He also promises that the new development will "reward the curious," just like the House of Eternal Returns, and hints that the decision to locate the Grapevine installation inside a mall was very intentional and will factor into the design.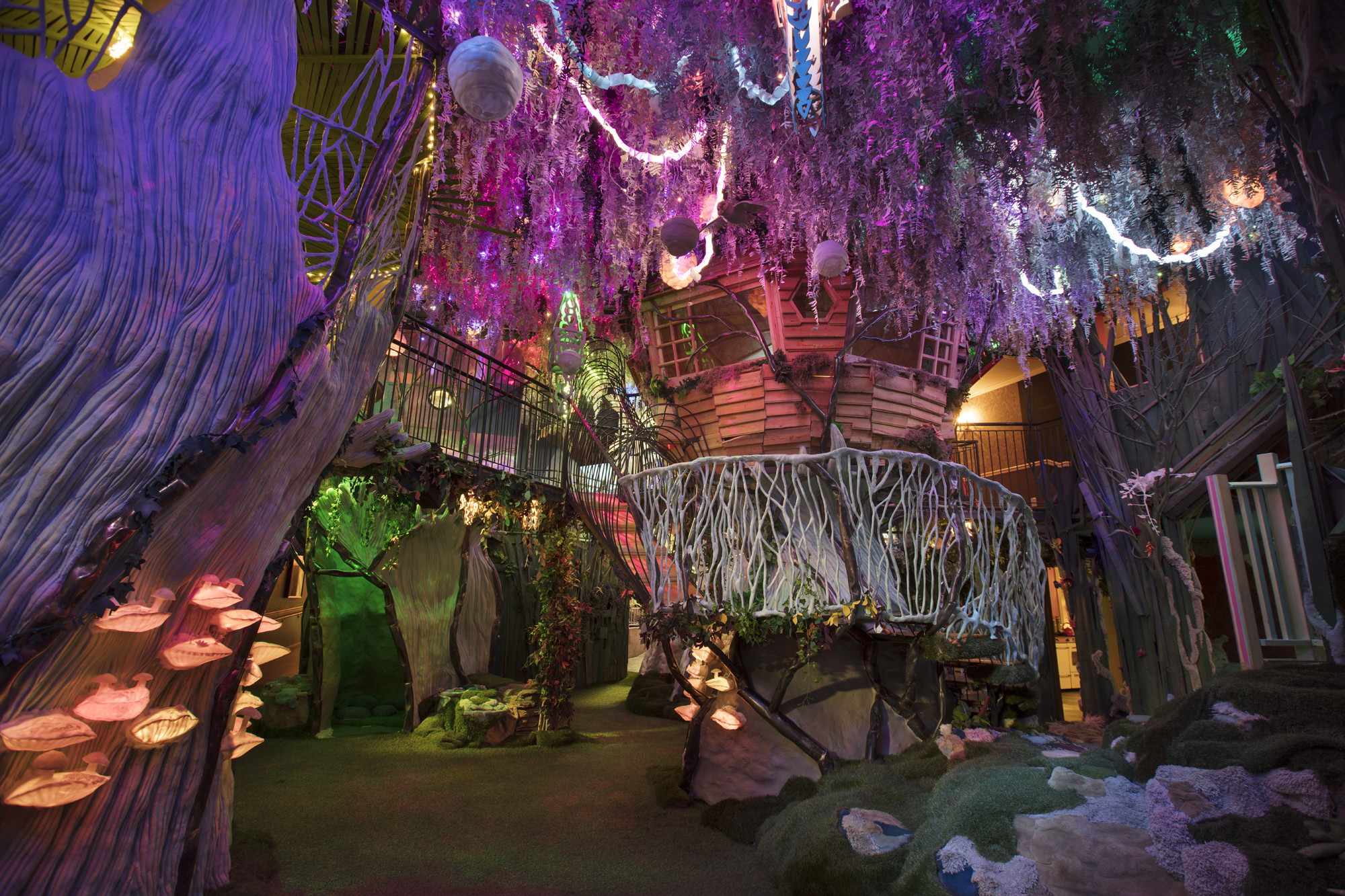 4. It Will Be Family (and Student) Friendly
Every installation is designed to be a welcoming space for anyone and everyone. Grapevine will be no exception: the staff is already working on accessibility resources for individuals with sensory disabilities, and the location will benefit from years of lessons learned in other communities. Expect plenty of space to move around and decompress when the immersive art (which Sr. Director of Operations Development Brian Loo likens to "stepping into a painting") starts to feel a little overwhelming. The team also promises to engage with local students through collegiate internships exclusive to Texas colleges and universities as well as a Grapevine version of their field trip offerings for grade school kids.
5. They're Just Getting Started
No date has been set for the next community meeting, but there will definitely be at least one more before the Grapevine location opens. Stakeholders are invited to provide tips and feedback through an anonymous google form, and local nonprofits should expect to hear from the community engagement team soon. Meow Wolf generally supports host communities through volunteerism, in-kind giving, and grant funding. Artists, students, and prospective employees are welcome to connect online at meowwolf.com/careers.