A Tale of Two Lobbies: Gaylord & Great Wolf Are Frenemies for Life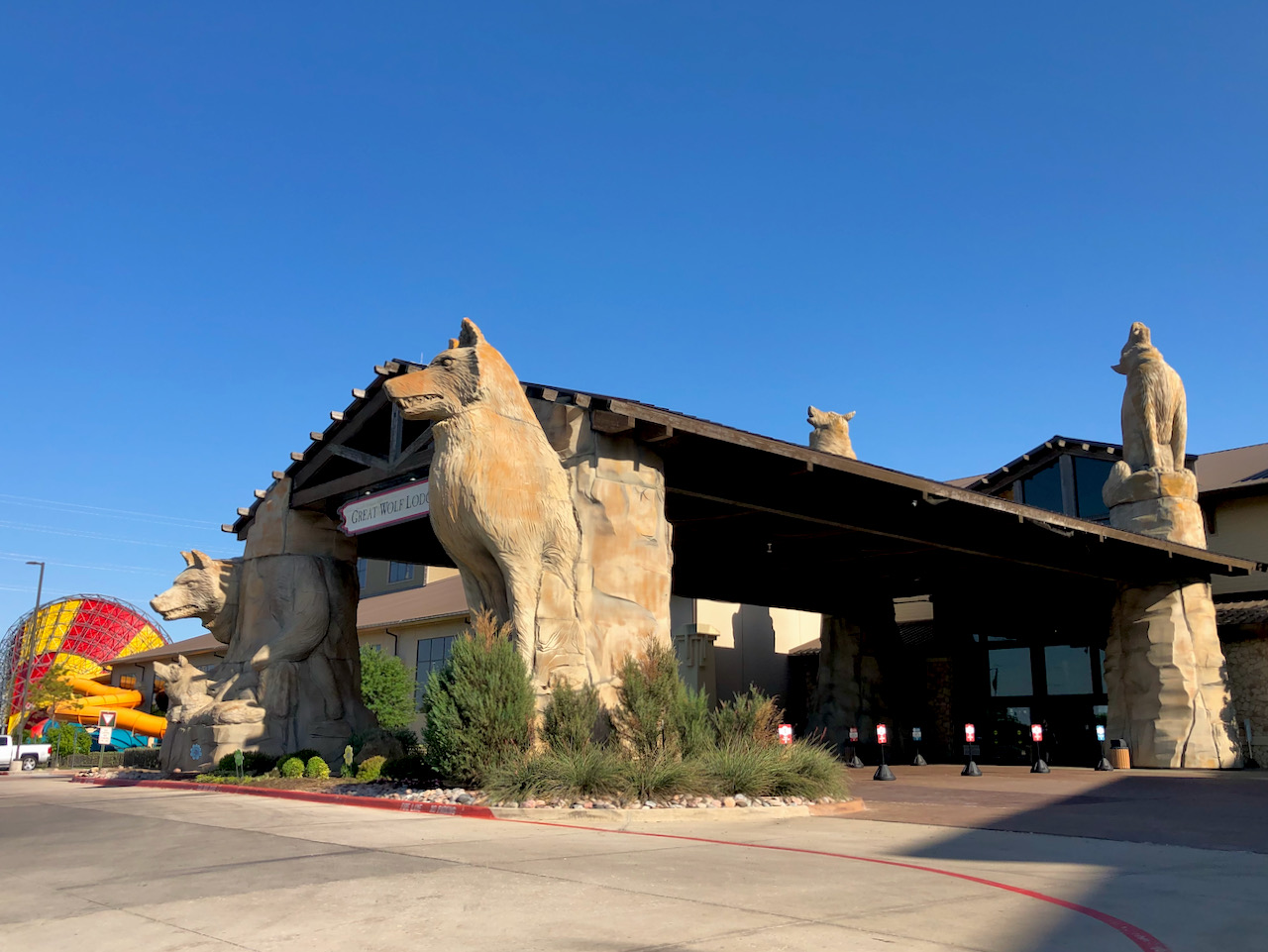 As our ongoing series, 'Growing Grapevine,' delves into the heart and history of the City, it's time to circle back to the industry that most everyone associates with our success: Hospitality. There are so many excellent hotels here in Grapevine that covering each and every one would prove difficult. But a close examination of the largest and most recognizable brands – whose properties happen to sit barely a mile apart – provides an excellent picture of the distinctive market advantages that drive the entire industry here in Grapevine.
Our staff interviewed key employees at both the Gaylord Texan Resort and the Great Wolf Lodge here in North Grapevine to see what makes this market so appealing to developers and how two rival brands can function so effectively in proximity to one another. Their answers highlight one of the most important distinctive traits Grapevine has to offer: the community itself.
How Gaylord Fueled a Destination Transformation
There were hotels in Grapevine long before the Gaylord Texan arrived. But the construction of a property with over 1,500 rooms (now over 1,800) and a sprawling event space brought a new side of the industry: conventions. From educators to manufacturers to the College Football Playoff committee, all kinds of users flock to Grapevine every year to network, train, and finalize strategies. Those gatherings form the backbone of a destination economy that exploded after the hotel opened its doors in 2004.
"Honestly, before Gaylord came in, other than what the Hilton could host, we didn't have an understanding of the type of demand that conventions would bring for shoppers and in our restaurants. We had the City convention center, but we didn't have the scale of hotel and meeting space and all of the other things that Gaylord brought in," said Grapevine Mayor Pro Tem Darlene Freed. "Because, you know, convention business is very competitive. And you might be competing with Austin or San Antonio, which is a huge convention city, and Grapevine wouldn't even be on that list as a potential place to host these kinds of scale conventions. I think the Gaylord brought that to us."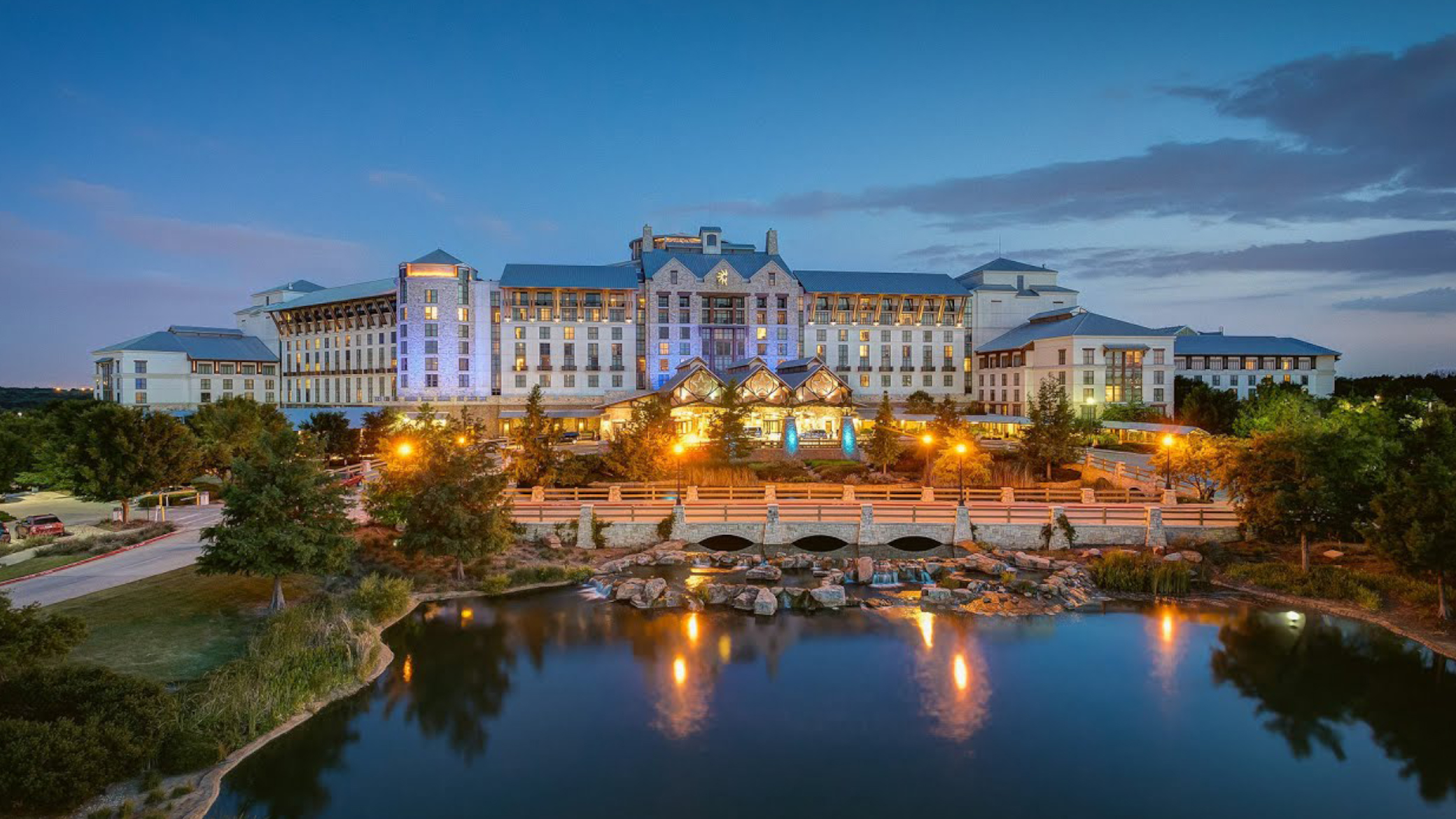 Surprised as they may have been, City Council had the foresight to include a stipulation that Gaylord book overflow guests into other hotels within city limits whenever possible, ensuring dense foot traffic that supports local businesses even when events proved too massive for the Gaylord itself. The synergy between convention traffic and local business is obvious. Placer.ai estimates that one in every twenty-five people who visited Grapevine Main Street in 2019 (the most recent non-pandemic year available) came from or returned to the Gaylord. A similar pattern holds at Grapevine Mills, where 93,000 mall shoppers came via the hotel and convention center that year.
"We have a very unique view here in this City, about everybody being lifted when we do things. If we're doing well, everybody else is doing well," said Gaylord Texan General Manager Chuck Pacioni. "We understand the impact that this building has on the local community and the local retail shops and restaurants. When we're full, Main Street is packed. So it's a true partnership between us and the City of Grapevine. And when I say the City, it's not just the local government – which is very supportive – we have a lot of support from the local community. Even all throughout Texas. This is one of the strongest drive-in markets you can find in the country."
As it turns out, driving access fuels more than just convention visitors.
Family Fun, Courtesy of the Great Wolf Lodge
Three years after Gaylord changed the face of the market, a distinct new player landed just across the street. Great Wolf Lodge, a northern hotel chain geared toward families with young children, chose to open their first location in the southern United States here in Grapevine. Their 605-room facility is the company's largest to date, prompting the staff to refer to their location as "The Greatest Wolf Lodge."
Like the Gaylord Texan before them, Great Wolf captured the imagination of City leaders who wanted to place another unique venue at the heart of the destination entertainment and shopping that had started to spring up across the City. Both properties went through a long research and courtship phase, and each built an extension shortly after arriving. Demand proved to be stronger than either company anticipated, in part because the properties were accessible by land and air.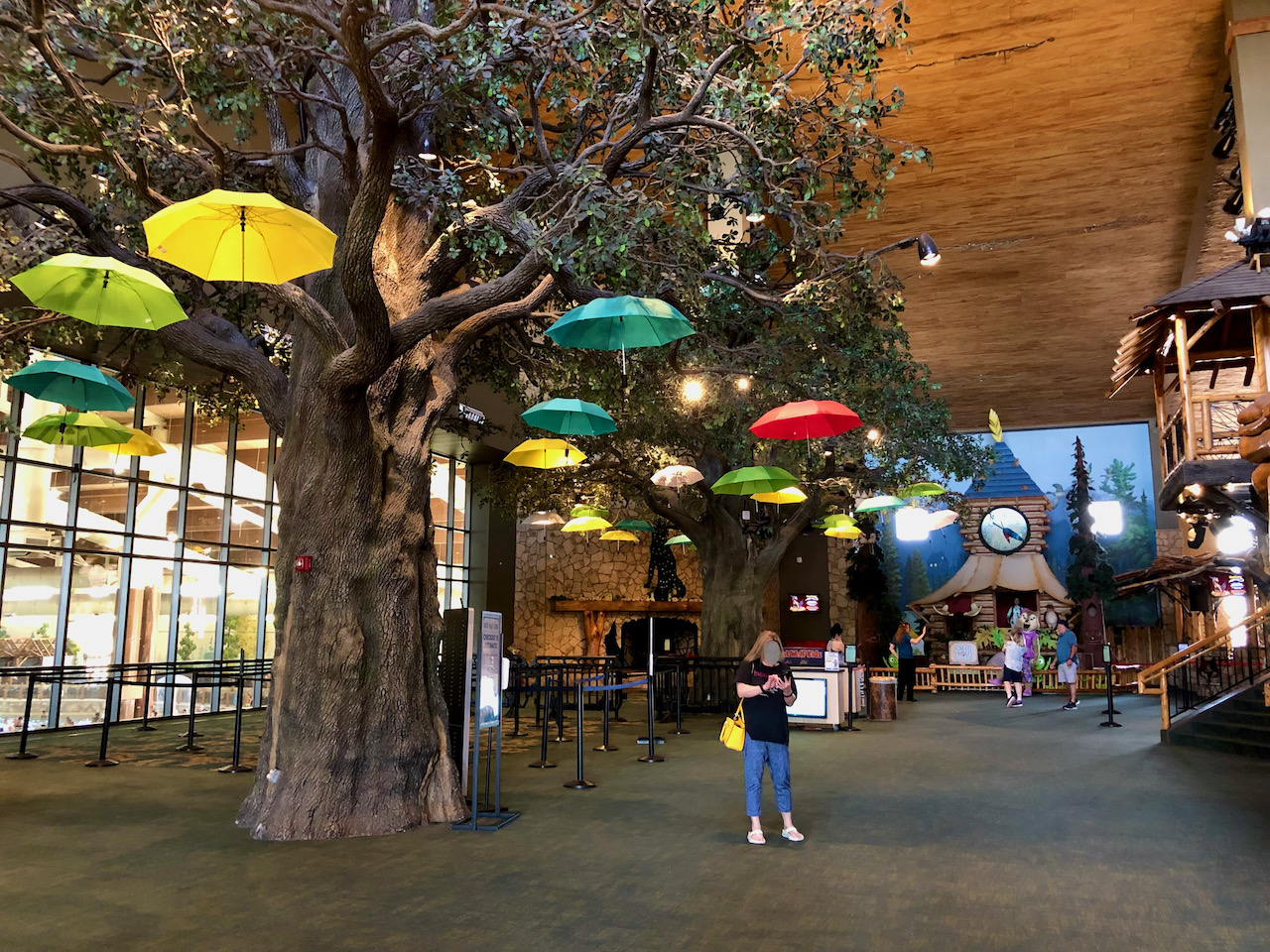 "The airport being right here is absolutely a benefit and absolutely assists. But we also pull from the DFW area as well as some surrounding markets such as Houston, Louisiana, and Oklahoma," said Amy Lane, the General Manager at Great Wolf Lodge. "We really are that Staycation. A lot of our lodges are actually not positioned right next to an airport; we are probably the closest to an airport, being that [DFW International Airport] is right in our backyard. But we are definitely a driving destination.
"This property, I think, is distinct for multiple different reasons. But you really get the Great Wolf feel when you walk into the Grand Lobby. When you walk into Great Wolf Lodge and you see a giant window, and every seven minutes a thousand-gallon bucket tips over the water park? It just creates that atmosphere. All the kids are yelling and laughing – and parents are trying to hide from the water – but the kids, they just can't enjoy themselves enough from that window. I think that just shows what we do on a daily basis. You walk in and you get that feeling yourself, because of everyone around you."
There's a stark difference between an atrium highlighting an indoor water park and one that houses replicas of iconic Texas landscape under a glass dome the size of Globe Life Park. What the Gaylord is to convention traffic, Great Wolf is to family fun. As it turns out, they're a potent combination.
Collaborating for the Good of Grapevine
To be clear, plenty of people book staycations at Gaylord. And Great Wolf sees a healthy amount of Convention traffic. There are even stories of CEOs riding down the water slide in their Armani suits on a dare. But both of those brands have "power alleys;" things they do better than anyone else. And focusing on those specialties clears the way for them to work together for mutual growth.
"The Gaylord brand, we're all built to handle large conventions. About seventy-plus percent of our business is convention business, which is pretty different from most hotels. The remaining part of it, we really focus on leisure outside of that," Pacioni said. "I think it's important for us to have strong relationships with [other] hotels. We do need to work together to book some of the larger things that we do. There may be some level of competition between us, but one of the things about our business model is that we need those relationships with them for all of us to be successful."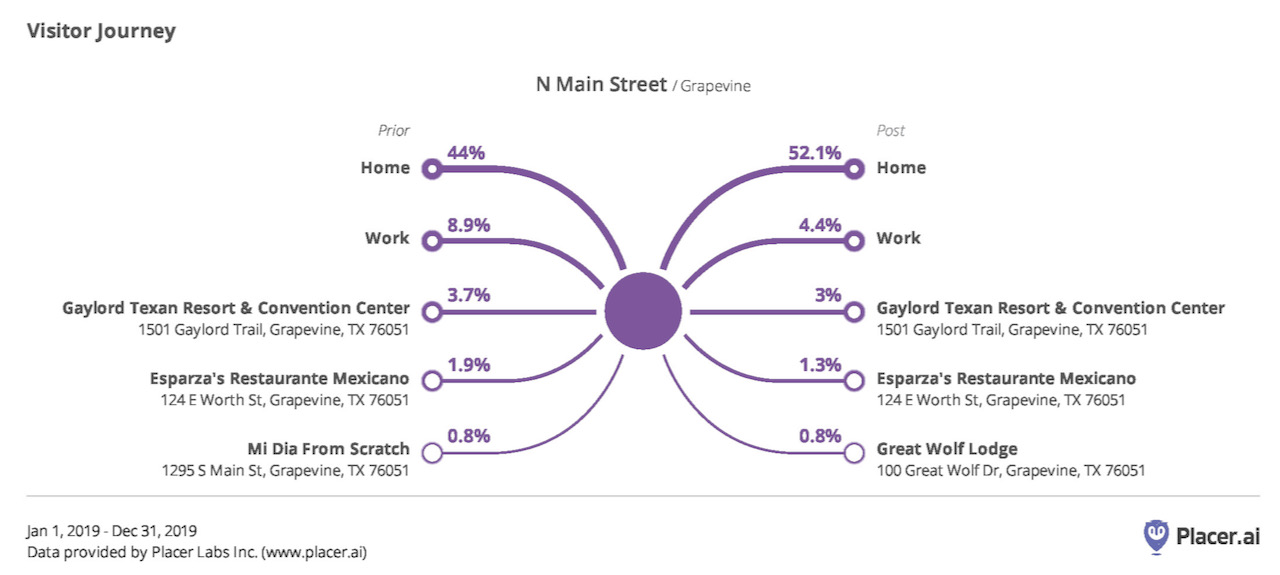 It's not uncommon to see shuttles crossing Northwest Highway to ferry convention guests from Great Wolf to Gaylord and back again. Or, for that matter, for guests from both locations to catch a City shuttle to Main Street or the mall. In the end, Great Wolf benefits from the extra bookings and Gaylord gets to take on even larger clients than they can handle on their own. The City and its residents benefit from the resulting hotel occupancy and sales tax, and local business owners have a steady source of new customers looking for places to shop, wine, and dine. Everyone wins, and no one fears the other players.
"Our demographics are very, very different," says Lane. "That's what was behind that decision [to collaborate]. Even though Gaylord is large and developing and growing – and similar in some ways – it's very different in others. We are a family destination, with the water park specifically... if you walk the lodge, you're going to be walking through all of these children holding magic wands. And they are all magic. Our pack members actually put magic inside of every single one of those wands."
There's a certain magic to building a community. Fortunately for the City of Grapevine, our signature brands know how to make it work.
For more about the City of Grapevine, and for a deeper dive into this story, check out the 'Growing Grapevine' podcast in our News Center or on your favorite podcast app.