Celebrating a Half-Century of Strategic Success in Grapevine
Looking at the City of Grapevine today, it's difficult to picture its sprawling parks, first-to-market attractions, and Historic Main Street as an undeveloped community. But half a century ago, most of the City consisted of suburban housing and unbroken lengths of Texas prairie or farmland. And, of course, a human-made recreational lake and reservoir. The story that spans the gap between those distinct visions of Grapevine is a story of momentum and incremental progress.
The Dallas-Fort Worth International Airport will ring in 50 years of service in September of 2023, and a host of other important developments will follow on the heels of that landmark celebration. Chief among them? The 40th anniversary of Hilton DFW Lakes; the first hotel and convention center built in Grapevine proper.
In this, the first feature in our 6-part miniseries on the projects that made Grapevine a Destination Market over the last 40 years, we'll take a closer look at that pioneering project and the wave of momentum it heralded.
Main Street, Livestock, and Two-Lane Roads
Make no mistake, Grapevine history stretches back more than one hundred years prior to construction of DFW Airport. The City's rich history is still a major part of its appeal as a destination today, and the influence of older projects echoes in new developments today. The same rail line that used to take produce to market in the late 19th century now carries hundreds of thousands of commuters to or through Grapevine every year. If you made a list of influential factors in Grapevine's success, geography and infrastructure would be at the top.
But those advantages also led to game-changing projects like the Hilton, which set the tone for decades of successful development when it arrived in 1983.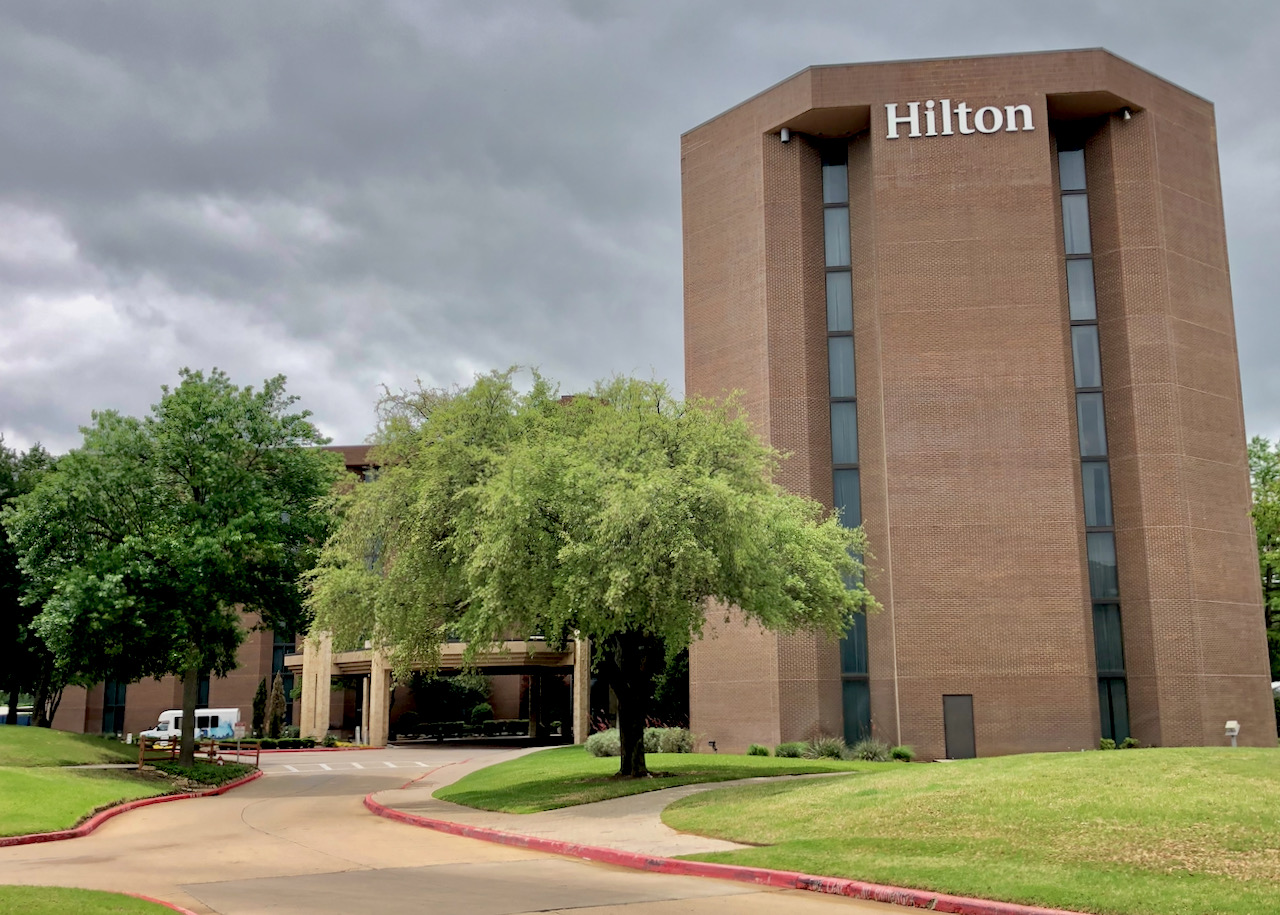 "When I started, there was a two-land road out front. That was it," said Apryl Vogelsang, Director of Human Resources at Hilton DFW Lakes. "I remember coming to work and next door, where all those limited-service properties are now, there was a field. It had cattle and goats in it. Every morning when I'd come to work, there was a goat that could get underneath the fence. He would be in the middle of Anderson-Gibson Road every single morning. And I guess, at night, he went back in. But every morning... there he was! So there literally was nothing else out here.
"We opened as an IACC-Certified Conference Center. Typically, IACC-Certified Conference Centers are in the middle of nowhere. So we really were the first Conference Center that was IACC-certified and close to an airport; that was easy to get to."
In a way, the City of Grapevine was uniquely situated to be groundbreaking: remote enough to ensure top-quality accreditation from the International Association of Conference Centers but highly accessible thanks to the recently completed international airport. Today, the property boasts 393 guest rooms and over 48,000 square feet of convention space. That's enough capacity to increase the population of 1980s Grapevine by 30% just by booking a single guest into each room.
That instant injection of consumers into a market primed for growth led to quite a bit of momentum.
"We have consistently worked toward a community vision that took advantage of travel – whether it's corporate or leisure – and have incorporated into our community in a more robust way than most the idea that visitors are good; that we want as many of them as we can get and can handle. And the things that give you the ability to attract those visitors is something that's very well supported here," said Grapevine City Manager Bruno Rumbelow.
"We had DFW Lakes Hilton here a very long time ago. They're kind of like the pioneer that went out there and staked the ground out. There's been a ton of hotel growth since that time, but you also have to have things for people to do once they get here. And that's everything from a great Main Street with lots of shopping opportunities to really great dining options and wine tasting rooms."
Moving the Needle to Move the Needle
The result, which developed slowly at first but accelerated rapidly at the turn of the 21st century, was a Destination-based economic model that helps the City of Grapevine punch well above its weight. The 2020 census counted 50,631 residents in Grapevine; a sizable increase from 1980 but far from the total count needed to support a full-service City structure with the lowest property tax rates in DFW. That model only works because the City draws millions of visitors every year, supporting local businesses and expanding sales tax profits without costing residents another cent.
Last year, Placer.ai estimated 45.1 million visits to Grapevine by people who neither live nor work within the City. That's a lot of pent-up demand for food, entertainment, and retail; rewarding decades of hard work that shaped the market until it could provide options for all those visitors. Of course, that transformation didn't happen all at once.
"Our overnight success only took about eleven years, actually," said P.W. McCallum, Director of Grapevine's Convention and Visitor's Bureau. "Most of Grapevine's buildings through the late seventies and on into the early eighties were either underutilized or, in some instances, even just being used as storage and such... it was a slow progression."
As convention centers like Hilton DFW Lakes drew more buying power into Grapevine, local businesses took advantage of the momentum. The slate of restaurants and wine tasting rooms within the City expanded dramatically, increasing the quality of life for residents without a steep cost. Available meeting space and accessibility made the City of Grapevine recognizable enough to warrant corporate interest from the likes of Gamestop, Kubota, Paycom, Southland Holdings, Solo Brands, and more. Soon, Grapevine was a diverse market with only 7% of employers in the Accommodation and Food Services sector; a balance that continues to drive growth in the City today.
"There's a momentum that I think has carried us for the last twenty-five years that I think is important to acknowledge. This community had that momentum then, and our responsibility today is the same: to keep that going and make sure that we keep working on the things that make sense and that add to the quality of life here. That build us up from a financial standpoint," Rumbelow said.
"Growth can be good if it's managed well. If residents see a real benefit to them and the quality of their life as a result of it. People want to live in a place that's active and vital and vibrant, and I think that the fun thing about the last twenty or twenty-five years here is that, with the opening of every sort of new thing, not only did it increase the revenue base and our ability to afford the things that our residents like, but also it increased the family atmosphere of things to do, things to go see, and things to be proud of in your town."
When it comes to the power of the Grapevine market, we're just scratching the surface. Subscribe to Growing Grapevine to receive updates as this series progresses or reach out to our Economic Development team to see how being part of this Destination economy could benefit you!