Vision-Casting Toward Grapevine 2030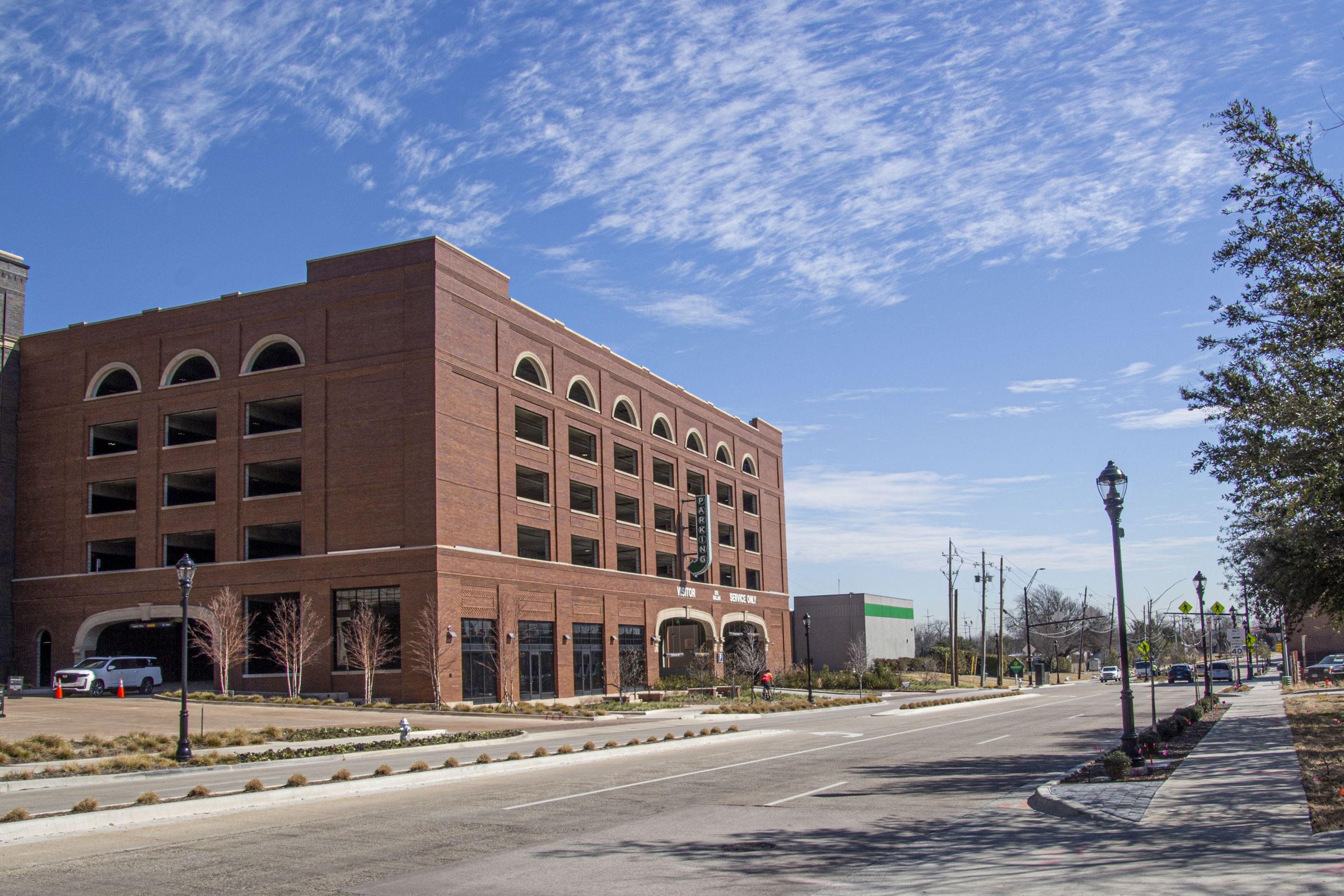 Before Grapevine had a storied history, it had a vision for the future. More accurately, the decision-makers at the helm had a vision. Goals – whether in the world of City Planning, athletic training, or personal growth – require a fair amount of imagination. One must picture the future as it ought to be and work backward through the steps leading there. Almost 50 years ago, leadership here in Grapevine imagined a City like the one we have today.
Continuing their work will require a similar vision; guided by citizens, staff, and elected officials.
If you've met Larry Holt, Grapevine's Director of Economic Development, there's a good chance you've entertained a straightforward-but-complex question: what does Grapevine 2030 look like? No two people will answer that question the same way, but the consensus of stakeholders within the City will ultimately shape the parcels and properties that have yet to be developed or are primed for redevelopment. With that in mind, we sat down with a panel of experts to vision-cast the next decade of growth in Grapevine.
Proactive Economic Development
When Holt took over the Economic Development department just over a year ago, he inherited an array of projects. Some had been in development for years and needed guidance to the finish line; others bubbled back to the surface after pandemic-induced delays. Plenty more arrived with little-to-no history, riding a wave of corporate interest in Texas that put the state at the top of business growth lists for years. New projects in Grapevine run the gamut from regional operations centers to one-of-a-kind attractions. But they're all an important part of the 2030 picture. And Holt thinks he can find more.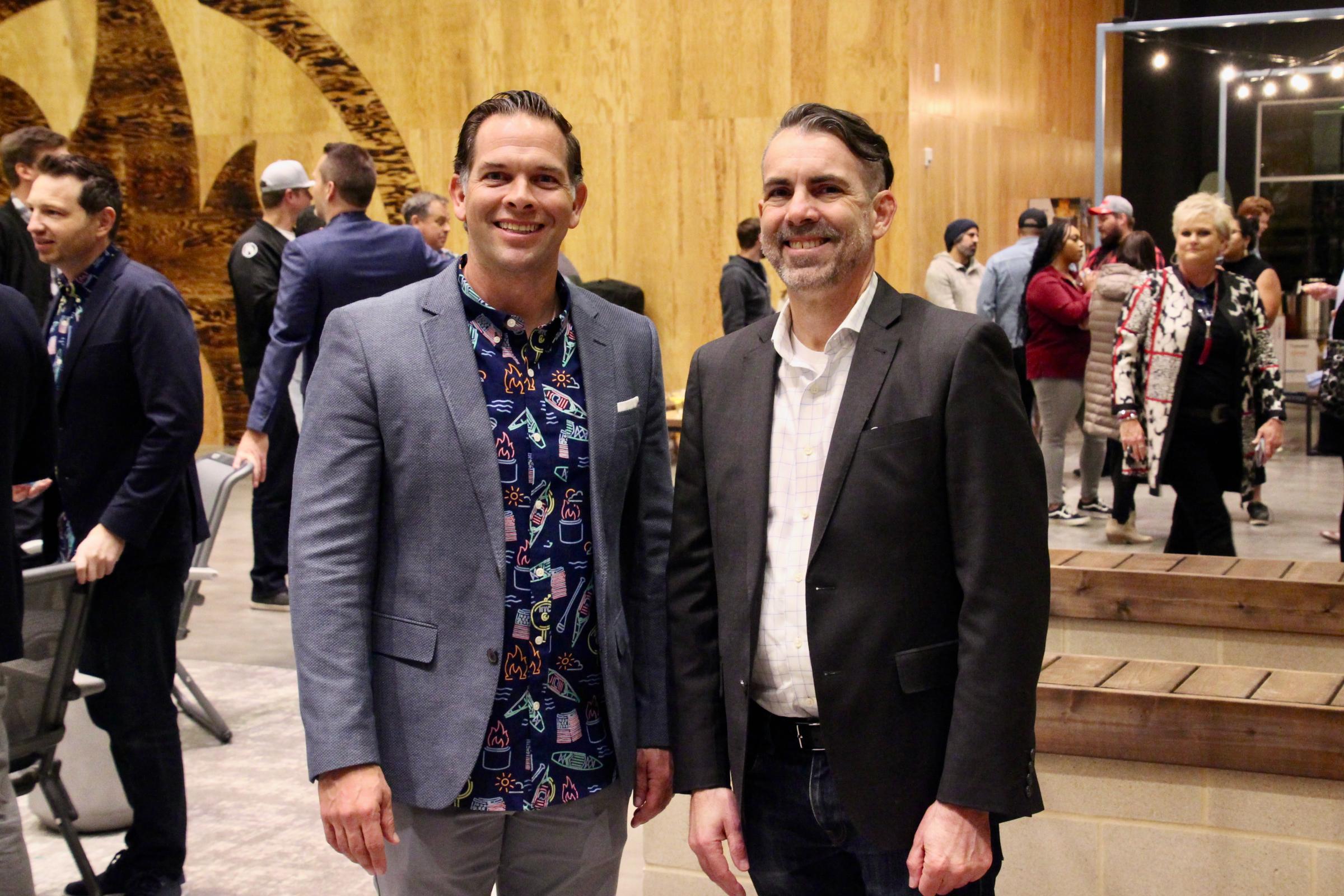 "There's a mistake frequently made in Economic Development, and that's confusing growth with economic development," Holt said. "Growth is just getting bigger. Economic Development is about getting better.
"There's some really impressive long-term thinking that has built this City to be what it is today. Our job is not to waste that; our job is to catalyze that... we're trying to get out there and identify and talk to decision-makers, tell the story ourselves, and have the infrastructure in place to reinforce the messages that we're out there sharing live. It's about building a proactive Economic Development department that's not waiting for opportunities but going out there and finding them on our own."

Grapevine is a diverse market, so opportunities abound. But the most promising ones, according to Holt, are the projects that thrive at the convergence of markets where Grapevine thrives. Companies that combine experience with retail, human connection with technology, and tangible goods with digital infrastructure. The City has seen a rise in foot traffic at retail hubs like Historic Main Street and Grapevine Mills Mall as consumers return to in-person experiences in the wake of social distancing protocols that, while necessary at the time, left Americans feeling isolated.
It won't be long before the experiential side of Grapevine sees its next evolution, as consumer brands like Solo Stove join the market and visionary users like Meow Wolf add to the stellar line-up of attractions at Grapevine Mills. The former sells lifestyle goods such as outdoor clothing and signature smokeless firepits; the latter sits on the cutting edge of an emerging interactive art scene. Both benefit from the accessibility and reputation of the City they now (or will soon) call home.
Strategic Redevelopment
There's one key difference between modern-day Grapevine and the market where leaders drew up the City's first comprehensive Master Plan in the early 1970s: past success has re-shaped the landscape. Where the challenge of the first wave of development was to envision a thriving economy where once there was open land, the challenge of the next decade will be to hone and sculpt the now-developed community into a well-defined and efficient shape.
"Grapevine is mostly suburban in character, and almost fully developed," said Planning Director Erica Marohnic. "We only have about 3.5-3.7% of the land area, excluding DFW Airport and the lake, [that] is undeveloped. So that's not a lot to play with... you have to change your focus from a developing city to a city that's mostly developed. What can we do with what we have? Where do we see opportunities for redevelopment? And how do we make that as easy as possible, if that's the desire?"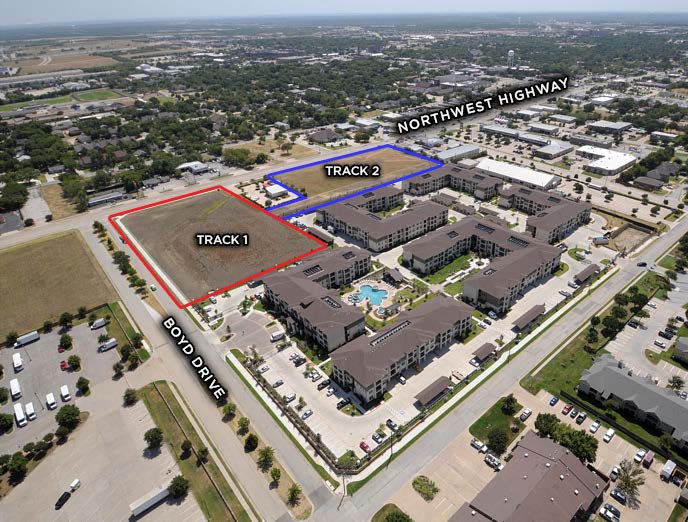 Over the course of the next decade, leadership across the City's Public and Private sectors will be answering those questions, guiding the growth of the market towards the collective vision of residents and their elected representatives. It's a process that will involve multiple City departments, plenty of independent developers, and the keen eye of City Council. But Economic Development has a role to play, too.

"I think Economic Development can really be reduced to thinking of the Velocity of Money. I think it's fairly intuitive that, you know that money – that velocity – circulates within your local economy. So what we as economic developers try to do is bring more 'Good Money' in, which is people purchasing goods or selling services to the outside world; and kind of reduce the 'Bad Money,' which is people taking their dollars and spending them elsewhere, quite simply," Holt said.
"Our job is to be Thought Leaders on this... the great thing that Economic Development offers to the City and to the community is that we hear real-time market intelligence before anyone else. So it's our job to really convert that into a thesis and communicate it to our elected leaders as quickly as possible so that we can be proactive on these things; identify those new money opportunities and get in front of potential challenges to our local economy, as well."
Points of Interest
The last three decades of development yielded several distinct neighborhoods and retail nodes. Where highways and public transportation converge at the heart of the City, a core of consumer brands and logistics-heavy businesses took root. Main Street became a staple of entertainment and retail, coalescing with Grapevine Mills and a collection of unique hotels to draw millions of annual visitors. And in the northeast corner of the City, on a patch of land purchased with high-end users in mind, corporations and major employers have formed their own high-powered business neighborhood.
Those districts all work together, supporting each other with overflow traffic and providing goods or services that the others lack. But there's room for even more convergence; for retail to become experiential entertainment that draws foot traffic from transit districts. For wholesalers to connect with employers and tech companies to augment brick-and-mortar shops. And for areas that aren't living up to their potential to reach new heights.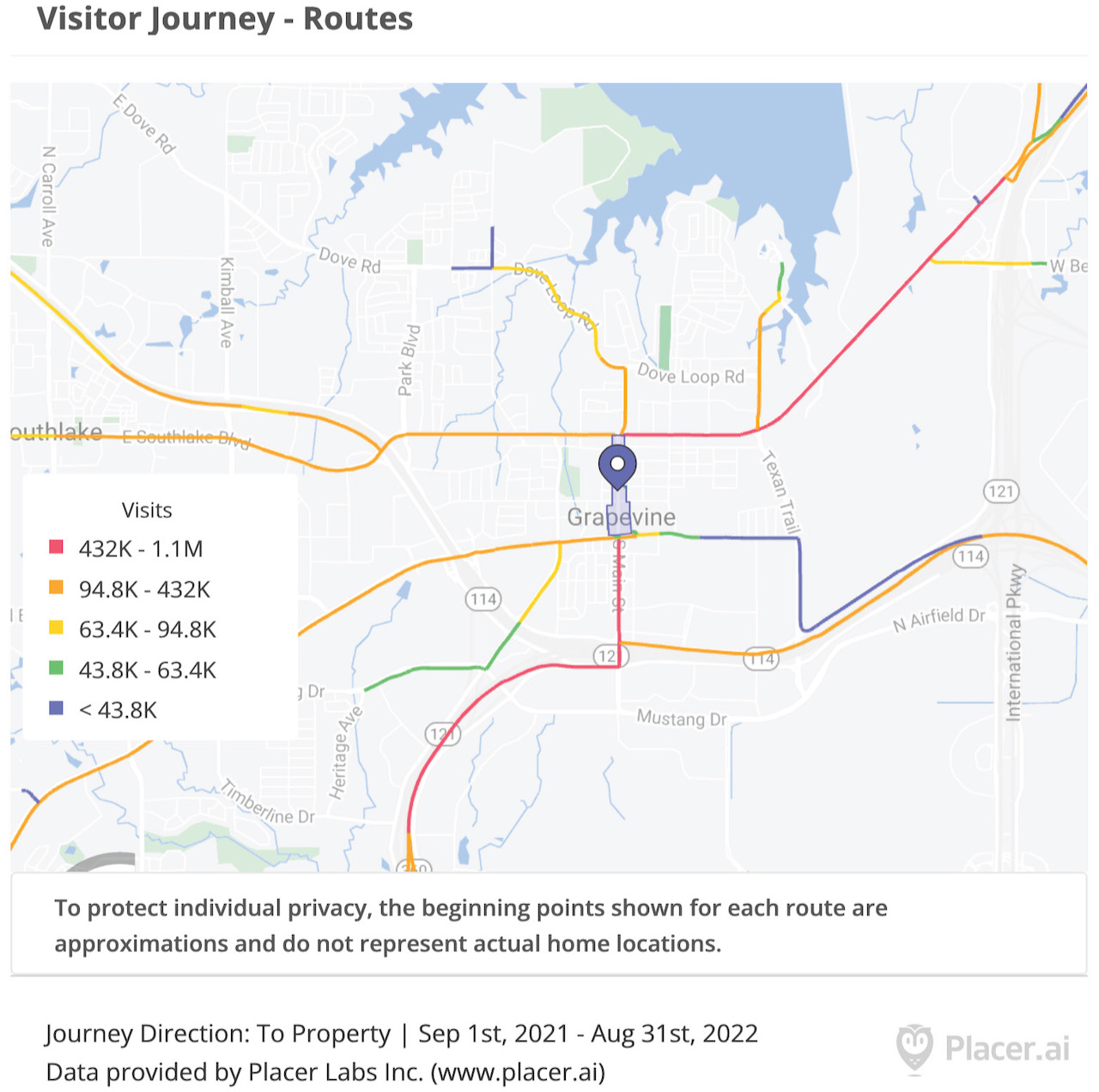 "I think we're starting to see [the future] already. That's the maturing of Grapevine as a Destination market while still offering opportunities for businesses that started here and businesses that may want to come here," Holt said. "The thing I'm most excited about is this convergence, if you will, between entertainment, retail, even creative work. I think that's a real 2030 idea of where we can go."
Other experts on the market tend to agree. Chamber of Commerce CEO RaDonna Hessel, for example, thinks there's still a boom waiting to happen here in Grapevine.
"There's just so many opportunities that are there, and so many people that are willing to take those risks and figure it out," she said. "I see that we're going to continue to add a few more corporations, especially on some of the DFW Airport property that's within Grapevine. I see that happening in the future. I see a lot of new small businesses, still, coming in; finding their way, finding locations. I see a lot of refurbishments of some properties.

Those two streets – Northwest Highway and Dallas Road – are focal points in the short-term vision for an even more prolific Grapevine. They act as bookends to Historic Main Street, drawing motorists and rail passengers into the heart of the City. They also boast dozens of undeveloped acres between them; a rare commodity that provides some flexibility when envisioning the next decade of growth. Together with a few nearby shopping centers that draw regular visitors but haven't fully capitalized on their location yet, this section of the City presents a wealth of opportunity.
"Imagine Dallas Road being a separate entity by itself, as opposed to just part of Main Street. The train station, the hotel; that's allowed the opportunity to take Dallas Road – which was originally just an industrial thoroughfare, you know, with a lot of metal buildings – into people having a vision of what it actually could be. Softening the road, making it nicer and more pedestrian-friendly; it's going to be exciting to see," said City Councilman Paul Slechta. "I think we're going to have people that are going to choose to live in this area that will want to ride the train to work in Dallas, Plano, Richardson. I think it's going to be very key. The development of the district, I think, is organically going to happen, with a little pushing from the City Council as to the things we really want to see. It's going to be a really interesting next ten or twelve years. I hope I'm around to see what happens!"
For a more in-depth look at the future of the City, listen to 'Growing Grapevine' here on our site or in your favorite podcast app. Find us on social media or join our monthly newsletter for ongoing updates about the City of Grapevine.
More Topics
Each year, Americans observe National Hispanic Heritage Month from September 15 to October 15 by celebrating the histories, cultures, and contributions of American citizens whose ancestors came from Spain, Mexico, the Caribbean, and Central and South America. The observance started as a week in 1968 under President Lyndon Johnson and...

Far beyond ports, hubs, and transportation networks, the new industrial ecosystem requires a cross-section of executive decision-makers to take a proactive data-driven stance on location strategies and logistics planning. Shifts across complex, geopolitical and socio-economic systems are happening too quickly, and the costs are too high not to rely on...

TxDOT makes it easy to find business opportunities and bid information for Disadvantaged Business Enterprises (DBE), Small Business Enterprises (SBE) and Historically Underutilized Businesses (HUB). Read full article.